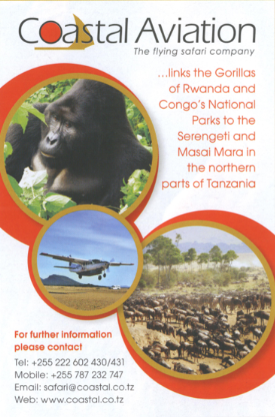 Great Flying Safaris in Tanzania with Coastal Aviation
Our Air Safari, which took place during the 10 days of Christmas 2003, began with a seafood dinner on the patio at one of my favorite places, "The Slipway" on Dar es Salaam's rapidly-changing waterfront. At this unique shopping mall, now in its third or fourth stage of development, we were introduced to the owner Nicola Colangelo, an exceptional person and gracious host. Having just completed two weeks of dawn to dusk sessions at conferences in Zanzibar and at Dar es Salaam's Golden Tulip Hotel, the idea of flying on the Coastal Air Safari circuit had a special appeal. continued
NEW FLIGHTS WITH COASTAL AVIATION
28 January 2013
By ATTA
Following the suspension of the BA flights to Dar es Salaam Coastal introduces 2 completely new flights to support guests arriving on all alternative airlines.
A late morning Selous flight, especially designed for passengers arriving on KQ or QR. It will leave Dar for Selous at 10:45hrs and will take off from Selous at 13:15hrs returning to Dar at 13:50hrs (on time for afternoon flights to Zanzibar, Pemba and Mafia).

A direct flight from Dar to Arusha at 10:30hrs.
It will be operated so that it can wait for guests arriving from abroad (KQ or QR for example) as well as Guests flying out of Selous on Coastal's early flight and going to the North. It will reach Arusha on time for continuation to anywhere in the Serengeti.
COASTAL AVIATION NOW HAS AN EXTRA FLIGHT FROM ZANZIBAR TO SAADANI
The new flight will depart from Zanzibar at 17:15 and arrive in Saadani at 17:30. This is effective immediately.
Existing flights remains the same, thus flights to and from Saadani are as follow:
Morning Flight: The flight departs from Dar 09:15 to Zanzibar and then Saadani where it arrives at 10:00. It continues on to Pangani, Moshi, Arusha and the Serengeti. Of course guests from Selous (07:25 flight) or passengers from the BA flight can also connect on to the Saadani flight in the morning.
Afternoon flight: Guests arriving from Ruaha, Selous and Mafia can connect from Dar at 16:45 to Zanzibar from where we depart at 17:15 and arrive in Saadani at 17:30.
Returning Flight: Depart from Saadani at 17:45 and arrive in Zanzibar at 18:00 and connects onwards to Dar at 18:15
FLIGHTS TO KIGALI
The Primates of Rwanda and Congo can now be easily reached from the Maasai Mara and the Serengeti, courtesy of Coastal Aviation. Coastal connects daily from the Serengeti and the Maasai Mara to Mwanza where we departs from there at 17:00 to Kigale. In the morning the flight departs from Kigali at 06:00 to Mwanza where it connects from there to the Serengeti and the Maasai Mara. In both directions guests have the opportunity to enjoy a full days Safari and admire some of the greatest views in the world.
EXCITING FLIGHT FROM COASTAL
Coastal Aviation is now flying shared charter flights from Dar es Salaam to Mocimboa da Praia in Mozambique. The flight is available 3 times a week on Wednesday, Friday and Sunday.

Connecting from the Selous at 7:25 as well as passengers arriving with British Airways the flight departs from Dar es Salaam at 09:00 to Mocimboa, where it connects from there to the Quirimba Islands with CFA flights. Returning, the flight departs from Mocimboa at 10:30 and will arrive at Dar es Salaam in time for our convenient connections to the Selous, Zanzibar, Mafia Island and Udzungwa.
Coastal Aviation's rapidly expanding route system is "connecting the dots." Of the diverse Tanzania Tourism Product. Now travelers can more easily combine the Southern and Northern circuits explore the Spice Islands and Swahili culture of Zanzibar or snorkel and dive in the coral studded Marine National Park in Mafia Island, all on the same Safari. Coastal Aviation, developed by Dar es Salaam-based Coastal Travel Ltd., pioneered scheduled flying safaris in Tanzania. Coastal Director Nicola Colangelo, said,"Our flying safaris are so successful because they offer the opportunity for small parties and single persons to join an adventure which otherwise would have been an prohibitive cost." As Tanzania tourism is expanding, Coastal Aviation created new safari combinations that were never possible before. In the next two years, Coastal will invest an additional USD3 million in aircraft and USD million in camps and lodges.
Coastal Aviation's flights include: Arusha in the Northern Circuit with Ruaha and the Selous in the South; Ruaha, Katavi and Mahale; Rubondo Island and the Serengeti; the Selous and Mafia Island. At the World Travel Market in London , Coastal Aviation launched an "Agent Friendly" online booking system. Coastal Account Holding Travel Agents will be able to plan and book the entire safari itinerary, as well as confirm and issue travel documents. Other agents and clients will have access to the information but will not be able to book online. www.coastal.cc.
Coastal Aviation New Flight to Kilwa
In 1324 al-Hasan ibn Sulayman, Sultan of Kilwa, sailed to Cairo with Slaves, Camels and Gold. In fact, with so much gold that the Egyptian market went into a ten year depression. This story must have caught the interest of Vasco da Gama who, many years later, gunned down Kilwa town…… We hope you know the story, but if you are curious, you can now research it in person: COASTAL flies every day to Kilwa!
We depart Dar es Salaam at 15:00 hrs and reach this ancient destination at 16:20. You can spend a night in one of the newly built hotels on the beach of this fascinating town and fly back the next day at 16:30 hrs.
You can also make Kilwa the destination of an excursion out of Zanzibar or Mafia:
Zanzibar to Kilwa at 14:00 hrs and back in Zanzibar by 18:05 hrs
Mafia to Kilwa at 15:40 hrs and back in mafia by 16:30 hrs
Discover Kilwa and its fascinating History