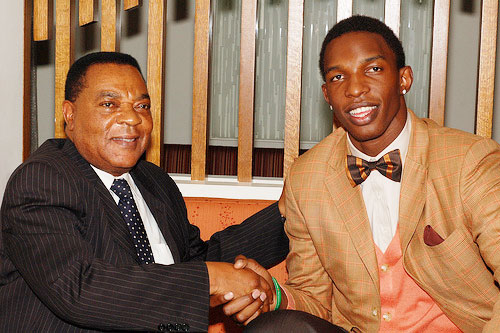 PHOTO: H.E. Ambassador Dr. Augustine Mahiga (left) and Hasheem Thabeet, Tanzania's First NBA Player (right).

HASHEEM THABEET, TANZANIA'S FIRST NBA STAR
HONORED AT CELEBRITY EVENT IN NEW YORK CITY
Number 2 Pick by Memphis Grizzlies
(July 21, 2009, New York, NY) On the eve of the National Basketball Association's (NBA) annual draft, an invited crowd of sports and other celebrities gathered at the trendy hot-spot Pranna in New York to honor the Tanzanian-born Hasheem Thabeet. This special event was hosted by the Permanent Mission of the United Republic of Tanzania to the United Nations, the Tanzania Tourist Board and BDA Sports Management, together with sponsors Maybach, élevée Lifestyle Magazine, and Heineken.
The highlight of the evening was when H.E. Ambassador Dr. Augustine Mahiga, Tanzania's Permanent Representative to the UN, presented Thabeet and his mother with the Tanzanian flag. Ambassador Mahiga stated "Thabeet was given the flag of Tanzania as a symbol of the pride he has brought and will continue to bring his country in the years to come as Tanzania's first NBA star. It is an absolute honor to have such a highly desirable player from our country in the world's most respected professional basketball association"
Thabeet was the number two draft pick for the NBA, making him the second most desirable player out of sixty candidates. Drafted by the Memphis Grizzlies, Thabeet will be the first Tanzanian to join the NBA. Thabeet is expected to act as a catalyst in peeking the NBA's interest in scouting more Tanzanian players. Ambassador Mahiga knew of Thabeet's value to his country early on, when he was quoted in the November 17, 2008 issue of Sports Illustrated, saying "he will literally become a national hero overnight. It will cause a transformation of the sporting scene in Tanzania, with the whole country rallying behind him as a trailblazer into basketball."
Also present was Richard Kasesela, President, Tanzania Basketball Federation.
ABOUT TANZANIA
Tanzania, the largest country in East Africa, is focused on wildlife conservation and sustainable tourism, with approximately 28 % of the land protected by the Government. It boasts 15 National Parks and 32 game reserves. It is the home of the tallest mountain in Africa, the legendary Mt. Kilimanjaro; The Serengeti, named in October, 2006, the New 7th Wonder of the World by USA Today and Good Morning America; the world acclaimed Ngorongoro Crater, often called the 8th Wonder of the World; Olduvai Gorge, the cradle of mankind: the Selous, the world's largest game reserve; Ruaha, now the second largest National Park in Africa; the spice islands of Zanzibar; and seven UNESCO World Heritage Sites. Most important for visitors, the Tanzanian people are warm and friendly, speak English, which together with Kiswahili, are the two official languages; and the country is an oasis of peace and stability with a democratically elected and stable government.
Editorial contact in the US:
Karen Hoffman/Julia Dantchev
The Bradford Group,
Tel: (212) 447-0027; Fax: (212) 725 8253