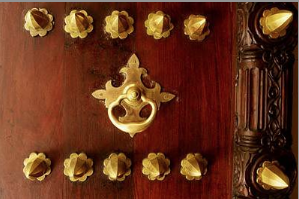 Photos by Jerry W. Bird, Editor

Zanzibar named Best Island Destination in Africa and Middle East
Zanzibar, the "spice islands" of the Indian Ocean, and part of Tanzania, was named by the TRAVEL + LEISURE Magazine's worldly readers as the highest-ranking Island in Africa and the Middle East in the 2004 World's Best Awards Readers' Poll. H. E. Andrew M. Daraja, The United Republic of Tanzania's Ambassador to the United States, accepted the Award on behalf of the Hon. Mohammed Aboud Mohammed, Zanzibar's Minister of Trade, Industry, Marketing and Tourism at a festive luncheon at Per Se, Time Warner Center, New York City. The Award was presented by Travel + Leisure's Editor In Chief, Nancy Novogrod and Ellen Asmodeo VP/Publisher. In accepting the Award on behalf of Zanzibar, H.E. Daraja noted that "Zanzibar lures the American traveler, not just because the name itself conjures up a mystical and romantic image, but also because it is known as a peaceful, stable and hospitable Island, just like mainland Tanzania.
Africa Travel Association's Zanzibar Action Plan for Responsible Tourism
by Jerry W. Bird



What we call "Sustainable," "Responsible", or "Eco-"Tourism, has become a key facet of the world's travel tourism industry. Among the first to recognize its enormous potential was the Africa Travel Association, which launched a series of Ecotourism Symposia, making its debut in Dakar, Senegal (1992). Interest and awareness grew at each succeeding event, until ATA's Responsible Tourism Committee, chaired by David Gibson and Loris Crawford, produced the 10-point Fés Declaration for Responsible Travel. Sherman Perkins was a key member of the Committee. The declaration stated: "Since the pioneering initiatives of the Casablanca Eco-Tourism Manifesto of 1990 and the Responsible Traveler Guidelines (Nairobi, 1995), the African Travel Association has demonstrated a commitment to the global awareness of specific Cultural Heritage and Ecotourism needs. This declaration guarantees the continuity of that commitment, as a result of the significant discussions conducted during the Sixth Cultural Heritage and Eco-Tourism conference of the African Travel Association, hosted in Fés, Morocco, December 8-13, 2002, the following statements were agreed to by the delegates as recommendations for serious action trajectories to be taken by the broader tourism industry in regard to Cultural Heritage and Ecotourism directions.".
Photos:- Zanzibari children welcoming ATA delegates.
Below- Dave Gibson
The Zanzibar Action Plan In Brief
(Implementing the Fés Declaration}
ATA's Seventh Cultural and Ecotourism Symposium in Zanzibar included representation from ten African country governments,four major airlines, and over 100 ATA members from North America and Africa. At the December 2003 event, Mr. Gibson (left) gave a keynote presentation on the "Driving Forces of Responsible Tourism." In his talk, illustrated by an impressive slide show," Gibson addressed the associated benefits, implementing tools, and verification methods for enabling sustainable tourism for both the tourism industry and affected communities. More->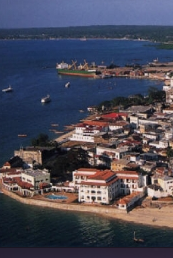 Quick facts about Zanzibar?
• Incorporated as part of Tanzania.
• World's oldest functioning Swahili city is Stone Town, Zanzibar.
• Popularly known as the "spice islands."
• Located about 30 K off the coast of mainland Tanzania in the Indian Ocean.
• An archipelago with the two main Islands of Zanzibar (also known as Unguja, the larger one) and Pemba (the smaller of the two).
• Incorporated into the United Republic of Tanzania in 1964.• Largest number of carved doors in East Africa.
• Stone Town has 50 mosques and four Hindu temples.
• Zanzibar has seen an influx from the British, Dutch, Portuguese, Egyptian, Phoenicians, Assyrians, Indians, Chinese, Persians, Arabs and Sumerians at various times in its history.
• Visitors enjoy a variety of pristine beaches and stunning coral reefs.
• Zanzibar's oldest remaining building is the 11th century mosque at Kizimkazi .
Festivals Zanzibari Style
"Zanzibar," the name itself conjures up a mystical and romantic image, consists of Unguja (known as Zanzibar Island), Pemba and some 50 smaller surrounding island and islets. Already popular for its beaches, water sports, scuba diving (using environmentally-friendly equipment), underwater photography, reef watching, dolphin watching and snorkeling, Zanzibar is now focusing on promoting its many year-round festivals showcasing the diverse cultures and history of Tanzania's Swahili coastal islands.
"What makes Zanzibar's festivals unique and popular with visitors is that they are for the local population as well as for the tourists," says Mohammed Vuai, Executive Secretary of the Zanzibar Tourism Commission. "There are events and activities that take place in the local communities throughout the islands."
Above photo by Muguette Goufrani
In the heart of Stone Town is a beautifully restored palace, once the home of one of the richest men in the Swahili Empire. Our hotel recreates the wondrous atmosphere and grandeur of the past by providing traditional, elegant accommodation. Spacious airy rooms, original stucco decor, ornately carved doors, antique furnishings, ceiling fans, and unique stone baths are featured throughout the hotel. 236 Hormuz Street, P.O.E. Box 3417, Zanzibar, Tanzania . Tel: 255-(4/0)747-423266 Fax: 255-(4/0)747-429266 . Bookings email: emerson&green@zitec.org
Inquiries email: anything@emerson-green.com
website: http://www.emerson-green.com
Stone Town: A Zanzibar Renaissance
by Karen Hoffman
Following the Africa Travel Association's annual World Congress in Arusha, Tanzania in 1998, I had planned a few days visit to the nearby Island of Zanzibar. Leaving Arusha, we rushed to the airstrip, sure that a presidential traffic tie-up had caused us to miss the flight. The 20 or so passengers calmly seated in the tiny terminal building indicated to us that the plane coming from Dar Es Salaam was going to be late. The more than an hour delay led to casual conversations with fellow passengers. And so it was fortuitous that we met Paul Oliver, owner of Oliver's Camp near Tarangire National Park. Learning that we were to debark at Zanzibar he recommended that we try and locate John de Silva, a local artist/historian, an excellent tour guide who could provide us with a more intimate 'portrait' of the history of Stone Town, the oldest section of Zanzibar Town, a bustling Swahili (Arabic influence) port.
Zanzibar Association of Tourism Investors
Zanzibar Association of Tourism Investors (zati) was registered on 5th February 2003 and has since begun to show its value to both the private and public sectors with such influence on marketing the destination and how to address current world issues. ZATI's aim is to achieve excellence in hospitality, leadership in marketing, and sustainable growth in tourism, for the benefit of its members, and the wider Zanzibar community. ZATI is grateful to have the full support and cooperation of the government. More->