SCENES FROM HOUSTON'S "OUT OF AFRICA"
CLICK FOR PHOTO GALLERY.
Texas TOPS in USA: Four Texas metropolitan areas were among the biggest population gainers as Americans continued their trend of moving to the Sun Belt in 2006 and 2007, according to Census Bureau estimates. See Fox News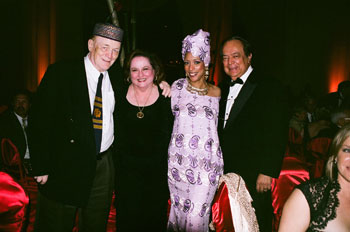 Houston Texas, America's 4th Largest City, Salutes Ethiopia's New Millennium , Cultural Treasures, Expanding Tourism and Trade

Ethio-American Trade & Investment Council with the support of Ethiopian Minister of Culture and Tourism, of the Federal Democratic Republic of Ethiopia, the Embassy of Ethiopia in Washington, D.C., Ethiopian Airlines, Addis Ababa Chamber of Commerce and the Houston International Festival, is organizing "Ethiopian New Millennium Tourism, Culture and Trade Image Building festival" in Houston Texas, schedule to take place on April 19th and the 20th and April 26th and 27th, 2008.
This annual Houston International Festival is a massive outdoor events celebration, stretching across 16 acres of Houston downtown parks and streets. Projected attendance is estimated to be around 425,000 visits annually and over $ 7.9 million USD is generated in trade advertising and publicity. The Festival's demographics include high-ranking government dignitaries, business leaders and general public from Texas and surrounding States.
This year's Ifest 2008 "out of Africa Spotlighting Ethiopia" will showcase dazzling variety of Ethiopian's arts and crafts, traditional textile and garment, Ethiopian fresh cupflower, Ethiopia as the birth place of Coffee and Ethiopian designers fashion shows. It will include also a creation of a living Museum featuring cultural dance performance venues of Ethiopian National Theater throughout the festival site. The festival is also properly structured and designs to crate opportunity to Ethiopian participants to introduce their products and closely understand to be competitive in the US market.
It is with great pleasure that Ethio-American Trade and Investment council invite Ethiopian merchants and private and public business sectors to participate in this unique International festival. The Ethio-American Trade & Investment Council is a non-profit, non-partisan, tax-exempt membership organization dedicated to strengthening and facilitating trade & investment between Ethiopia and United States of America. For the past fifteen years, EATIC has played an active role in getting the word out to many American business communities to view the Ethiopian investment and tourism opportunity first hand.
Ethio -American Trade & Investment Council -
9301 Southwest, Freeway, 250
Houston, Texas, 77071- 713-271-7567 &endash; www.eatic.org
Houston International Festival
4203 Montrose Blvd., Suite 200 | Houston, Texas 77006
713.654.8808 | contactus@ifest.org
Houston is the fourth largest city in the USA
Home to 2 million people and a hub of international businesses. Houston's leaders are also focusing their attention on making their city not only a great place to live, but a great place to visit as well. Houston is a vibrant international city that heartily enjoys its tradition of being a place of firsts. General Sam Houston, the city's heroic namesake, was the first president of the Republic of Texas. Houston, the city, was the first word spoken from the surface of the moon and the first to build an air-conditioned sports stadium.
I-Fest Web Site
About Houston, Texas
Ethiopia -USA Trade Web Site
Houston Background
Houston Accommodation
Crestline Hotels & Resorts Appoints Hans J. Schmitt as General Manager for the314 guest room Hotel Derek in Houston's Galleria area. Mr. Schmitt is a hospitality industry veteran with more than 17 years experience in operations, management, and sales and marketing. He joins Crestline Hotels & Resorts from Noble Investments where he was Senior Vice President of Sales & Marketing. In addition, he has held executive positions with Interstate Hotels & Resorts, HEI Hotels & Resorts, as well as Sheraton Hotels and Renaissance Hotels.
"Hans' understanding of the regional market coupled with his commitment to guest service and leadership will provide excellent skills to manage the upscale Hotel Derek," said Dave Durbin, President & CEO of Crestline Hotels & Resorts. "We are confident that under Hans' direction the Hotel Derek will continue to grow its Mr. Schmitt attended the hospitality management school at the Salzburg Klessheim College in Salzburg, Austria. He also holds a Bachelor of Science degree from the Realgymnasium Waidhofen Ybbs, Austria. He has been recognized with several industry accolades including General Manager of the Year followed by Hotel of the Year awarded by HEI Hospitality. Mr. Schmitt can be reached at hans.schmitt@crestlinehotels.com.
About The Hotel Derek
The Hotel Derek epitomizes new urban style with a unique Texas flare. The hotel is well positioned for visitors seeking to explore all that Houston has to offer, including the city's central business district and world-renowned Texas Medical Center. Guest rooms feature plush bedding with goose down duvets and modern décor accented with 'Texas trimmings'. For business travelers the hotel offers a large glass work-desk in each room, complimentary high speed Internet access, dual-line cordless phones and private voicemail. Additional hotel amenities include an outdoor swimming pool and a full-service fitness center, concierge service, room service and valet parking. With over 10,000 square feet of beautifully appointed meeting space, The Hotel Derek is a favorite for business meetings, as well as social events and area weddings. The Bravo Ballroom, and its adjacent pre-function space, can accommodate parties of up to 500 people.
The Hotel Derek is located in the Galleria at 2525 West Loop South, Houston, TX, 77027, at the intersection of Westheimer and West Loop 610 South. It is approximately a 30 to 45 minute drive to both Hobby and Bush International Airports. For more information and reservations please call: 713-961-3000 or visit online at www.hotelderek.com.
About The Company
Crestline Hotels & Resorts, Inc. is one of the nation's largest independent hospitality management companies. Founded in 2000, the company presently manages 51 hotels, resorts and conference and convention centers with nearly 11,900 rooms in 13 states and the District of Columbia. Crestline Hotels & Resorts manages over 10 independent properties in major US markets including Atlanta, Houston, Los Angeles and Washington D.C. Crestline also manages properties under such well-regarded brands as Marriott, Hilton, Westin, Renaissance, Sheraton, Crowne Plaza and Wyndham. For more information visit www.crestlinehotels.com.
Gayle MacIntyre, Global Ink Communications, +1-404-643-8222, gaylemacintyre@aol.com /
Web site: http://www.crestlinehotels.com
MORE TO COME.