Ethiopia Wrld Edition 1-26 / World Edition. Part 2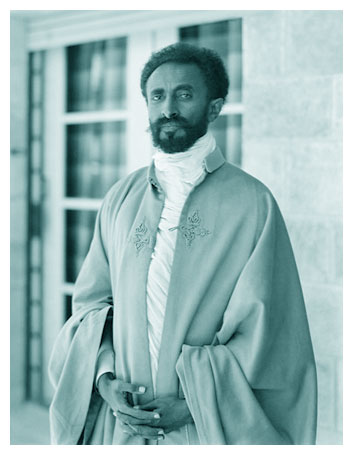 Haile Selassie's Palace reflects Addis Ababa's Royal Legacy
by Jerry W. Bird..
The Royal Palace of Emperor Haile Selassie, a highlight of the ATA 25th Jubilee Congress, was an exciting venue on our journalists' group tour in 2000 and has remained a popular place we have recommended to readers ever since. . Ethiopia, realm of the romantic Queen of Sheba, King Lalibela, and a host of other royals, has always been a magnet for hordes of invaders and generations of explorers. Today it attracts travelers like ourselves, representing all walks of life from around the world. Each visitor is eager to discover the country's legendary fascination and perhaps unlock its mysteries.
Having originated a magazine series called, "Railways of the World," I am always keen on new experiences in rail travel. Seeing future opportunities here in Addis, I joined my associate Yohannes Kifle and an attractive BBC female reporter to tour the classic train depot in the heart of Addis Ababa. Here we boarded two sets of antique railcars, which were once the pride of the Emperor and family, and a had a close up look at a vintage 1950s 'Lion of Judah' engine.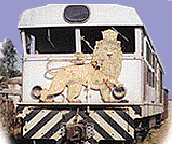 Royal Rails: Given Aladdin's 3 wishes, I would restore Emperor Haile Sellasie's 'Lion of Judah' railway engine, hook it up to the prized set of French and British coaches, and operate luxury excursion tours on the Franco-Ethiopian Railway. Built in the 1930s, the 482 mile line stretches from Addis Ababa, via Nazaret, the Rift Valley and Dire Dawa, to Djibouti, a French protectorate on the Gulf of Aden. In a 5-minute BBC interview, hoping my message would cause a spark, I said, "Think of the much needed income such a tour would generate for the Ethiopian economy." I've followed the last decade's amazing railway renaissance.
After a visit to Emperor Selassie's palace and Holy Trinity Cathedral, Addis Ababa's ornate railway station (gare) is the ideal venue for such an historic journey. Yes, the lordly Lion of Judah's engine lacks wheels, and the dust covered coaches shows neglect from being shunted aside during the Marxist regime. However, with some good old fashioned TLC (tender loving care) each museum piece would soon be in shining order. The Emperor's train is still not widely available for public view; fortunately we and our BBC friend received special permission.
Addis Ababa: Africa's Meeting Place
Why did ATA choose Addis Ababa as the venue for its 32nd World Congress in May 2007? To begin with it's today's political capital of Africa, home of the Organization of African Unity (OAU) and the United Nations Economic Commission for Africa, (UNECA). More than 95 embassies from all over the world have their missions in Addis Ababa. This makes the capital of Ethiopia a city where one finds the highest concentration of embassies in the world after Washington DC, New York and London. Addis Ababa is easily accessible, having daily flights to and from cities in Europe. Ethiopian Airlines, Lufthansa, Alitalia, Kenya Airways, Egypt Air, Saudia and others serve Addis Ababa. Perhaps what makes Addis unique is that the national carrier, Ethiopian Airlines, serves many cities in Africa&emdash; making it the most accessible city on the continent. United Nations Conference Center: One of the most modern and sophisticated conference centers in the world, offering state-of-the-art facilities. Addis Ababa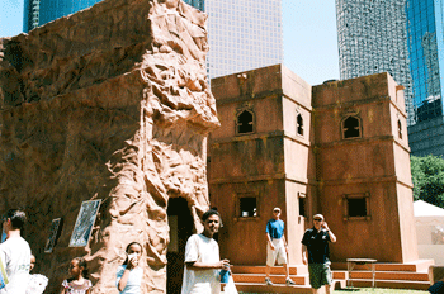 Replica of Lalibela stone church at Houston's I-Fest Celebration. Phtos by Muguette Goufrani
In The Queen of Sheba's Footsteps
x Lalibela's Bet Giyorgis, most famous of the eleven rock-hewn churches in this mountainous area, is believed to have been built in the late 12th or early 13th century by King Lalibela. These incredible edifices, which were carved inside and outside from solid rock, are ranked among the wonders of the world. Our team of North American journalists came to Ethiopia with few preconceived notions, yet each had some special areas of concern. For every member of the group, it was a first time journey to this ancient, mysterious, storybook land. What a spiritual awakening it proved to be. The tour of Ethiopia's Historic Route began in Addis Ababa, the capital and geographical center. For starters, Ethiopian Airlines, flew us north to Lalibela, the holy city; to Gondar- Africa's Camelot, and to Bahir Dar on Lake Tana, source of the Blue Nile. Dire Dawa and the walled city of Harar in the eastern sector completed the agenda.
Nothing I had read about the Holy City of Lalibela, its mysteries, legends, saints and monarchs, could have prepared me for what we were about to encounter on this trip. The brief morning flight from Addis Ababa's Airport north was a delight, winging through the cloudless skies, as an ever-changing panorama of awesome gorges, deep canyons and broad plateaus unfolded below.
Everything that I had read about Ethiopia in Wilbur Smith's novels, the River God and Secret Scroll, was as he described. As we learned later from Hon. Yusuf Abdullahi Sukkar, Ethiopia's Tourism Commissioner, airport construction enjoys a high priority, and on the high plain south of Lalibela, a new terminal building is in the final stages of completion. Our temporary waiting area was a baggage shack, where we basked in the morning sun, awaiting the commuter bus.
A Storybook Land: I've never been to Tibet, but the spiritual presence and views we saw during our corkscrew journey up the hillside would easily fit that image. Small wonder this storybook land has such a spiritual presence, a proud tradition and a way of life that has survived three millennia, despite an outside world of hate, conquest, treachery, trial and turmoil. The thatched villages, shepherd boys, terraced farming methods, simple forms of irrigation and donkey power, attest to the fact that time has stood still &emdash; as well it should. Coming from North America it's hard for us to realize that this is the way it has been in this part of the world since time immemorial.
Rocks of Ages: During my recent African excursions, I have been awed by mankind's glorious creations, offset by a Jekyll and Hyde capacity for evil. While we were shocked by the slave castles of West Africa's Gold Coast and Zanzibar's dungeons, we saw the result of godly forces at work in the 12th century rock -hewn churches that have made the Holy City of Lalibela a magnet for Christian pilgrims and historians.
Many come for the famous church festivals in Ethiopia, such as Timket (Epiphany) and other times of celebration and devotion. Souvenirs of King Lalibela are everywhere, as a continuing tribute to his glory and greatness in creating these wonders of the world. Our official photographer, Robert Eilets couldn't get over the abundance of photo opportunities in Lalibela's streets, at the famous stone churches and around every bend in the road leading to this remote highland community. Next time, we vowed to allow an extra day for photography alone.
Footnote: Back in Addis Ababa, it was our turn to be interviewed -- this time by Ethiopian press, radio and television. To a person, each journalist agreed it was a positive experience with no feelings of concern or anxiety about personal health and safety. The climate in mid February was perfect, and the hospitality of the people was second to none. What a beautiful prelude to the ATA congress, Africa's 1st major tourism event of the new millennium. More to come, including map and photos.
Continued: (Holy Route North) Gondar- Ethiopia's Camelot