A 13-day journey offering an amazing and comprehensive view of South Africa, incorporating virtually every internationally-regarded 'must see' sight and highlight.
As the train travels the length and breadth of the country, guests can enjoy the great variety of landscapes, shorelines, cultures, lifestyles and cuisine that the South African Rainbow Nation has to offer. There are many varied options included within this tour, so please contact us for a full itinerary.
The start point is Cape Town, with tours of the interesting sites of this fabulous city. From here the train will then traverse through the country to the vineyard region of Overburg with its history of Hugenots, and fabulous Cape Dutch houses.
Passing whaling stations and the coast, we continue to Kimberley, the home of the De Beers diamond mines, and so on to Bloemfontein. After a tour around this interesting town, we rejoin the train to travel overnight to Ladysmith.
The train now heads to the eastern jagged peaks of the Drakensberg, following waterways as they drop and cascade down mountain clefts, through hidden valleys to the tumbling luscious hills that extend through the Midlands. Here there are visits to Boer war battlefields, lush forests, and a shopping experience of an eclectic and fascinating mix of arts and crafts as well as world-class restaurants.
Overnight travel takes guests to Durban, to experience the vibrance of South Africa's third largest city. Its beautiful long beaches are enhanced by the sub-tropical climate. Hindu, Sufi and Muslim temples provide a mix of interests. You will see the Juma Musjid, the largest mosque in South Africa, whose twin minarets are a striking city feature, as well as the most opulent Hindu structure.
Whilst the train travels to Zululand, guests have time to study the life of the Zulu warrior before visiting a Zulu cultural village. Our train carries on to the tiny kingdom of Swaziland, where off-board excursions include a visit to Manzini where guests experience the Swazi market, a hive of activity displaying a wide variety of skillfully crafted woodcarvings, colourful textiles and superb basketwork, for which Swazis are renowned. There are trips to museums, glass works, and a drive through the Komati River Valley with its panoramic views.
By day 11 the train arrives at Kruger National Park, where one can either visit the park or take one of the many options available: visit a gold mining area, hot air balloon flight, safari, to name a few.
The penultimate day sees guests visiting many sites in Pretoria, Johannesburg and Soweto, before bidding farewell to their journey on the Shongololo Express.
Railways of Africa
Shongololo Express train safaris traverse eight countries in Africa on four different routes through South Africa, Namibia, Botswana, Mozambique, Zimbabwe, Zambia, Swaziland and Tanzania.
Passengers on board the train travel comfortably during the night, waking up each morning at a new destination. Shongololo Express train safaris are a unique concept and operate like a "cruise ship on land"; there is no daily packing or unpacking of luggage required. During the day guests are taken on a variety of excursions by professional multi-lingual guides (French, German, English and Afrikaans), on air-conditioned Mercedes Benz Sprinter buses that are carried on board the train.
The tour itinerary changes daily, with a variety of excursions from which guests can choose and which fall into the categories of Highlights, Wildlife & Eco Tourism, Culture and History. All excursions, including the guides, entrance fees and transport are included in the tour price. In addition, there are many optional extra activities on offer such as game drives on open air vehicles, elephant back riding, hot air ballooning and break away overnights in private game lodges.
The tour price also includes a full English & continental breakfast and a four course dinner. The evening set menus include many elements of the African cuisine of the countries which we visit. The only items not included in our tariffs are clients' lunches, drinks, laundry, gratuities, optional extras, break away options and other expenses of a personal nature.
Shongololo Express has been in operation for fifteen years and continues to provide its guests with a warm welcome and friendly atmosphere on board the train. Our guests, many of whom come back again and again, make new friends and take away life time memories from their grand African adventures.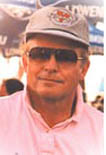 Franco - Ethiopian Railway from Addis Ababa to Djibouti on the Horn of Africa
by Jerry W. Bird
Given Aladdin's 3 wishes I would: (1) Restore Emperor Haile Sellasie's original 'Lion of Judah' railway engine that's standing all alone in the train yard. (2) Hook it up to the Emperor's prized set of antique French and British crafted coaches, and (3) Operate a twice daily luxury tour on the Franco-Ethiopian Railway. Built in the 1930s, the 482 mile line stretches from Ethiopia's capital, Addis Ababa, via Nazaret, Rift Valley and Dire Dawa, to Djibouti, a French protectorate on the Gulf of Aden. In a 10 -minute BBC interview at the Gare (Railway Station) I commented, "Think of the much needed income such a packaged tour would generate for the Ethiopian economy. Continued

Blue Train with White Glove Service
by Muguette M. Goufrani
While in Johannesburg this spring with Minah Makhoto and Queen Mokgopo of ATA's Gauteng Chapter, we had the opportunity of visiting the main railway station and Blue Train's impressive head office facilities. During this important meeting, our editors were given a thorough update on the company's newest programs and facilities. I have always considered the Blue Train a lifetime experience . . . land cruising across South Africa. Plans are being made this summer for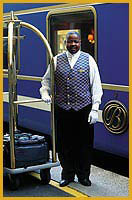 a special series of rail tours organized by our magazine and participating ATA chapters. Watch for news! For years I had read that South Africa held many pleasures for those of an adventurous spirit or romantic nature. So one summer, taking a month's vacation from my job as a travel agent in Ivory Coast, West Africa, I headed south. Here at last was my chance to spend some leisurely, laid back weeks getting to know that fascinating country surrounding the Cape. While the sights and delights were many and varied, the epitome was my experience aboard the famous Blue Train. It was like the finest luxury cruise, sailing across a sea of ever-changing landscapes . Yet there was time and space to savor every waking moment.(photos to come) I managed to read some pamphlets about the line's history, which spans over 50 years. Back in 1928, it became the first luxury train in South Africa. Continued
Cape Town to Pretoria on Rovos Rail, Pride of Africa
by Jerry W. Bird

"The design of the train has given us suites considerably larger than the world's famous trains such as the Orient Express, the Blue Train, Royal Scotsman in England and El Andalus in Spain." Rohan Vos

One of the first lessons one learns on entering the wonderful world of Rovos Rail is that this "travel opportunity of a lifetime" is not just a South African experience -- its routes extend to five other countries on a network of steel rails. For example, there's an annual excursion to Dar es Salaam, Tanzania, which many rave about. On this cool January morning, however, the destination is Pretoria, South Africa's capital city and headquarters of Rovos Rail, the Pride of Africa. Our leisurely two and a half day trip north through the country's heartland, allows ample time to relax, lay back, sip the wine, smell the roses, think lofty thoughts and get to know some interesting people. Daniel Dunn, one of the Western Cape's best informed tour guides, drove us to the Cape Town station, where Rovos Rail's owner Rohan Vos (right) and Sales Manager David Patrick greeted us, as our baggage was whisked away in a flash
What a way to celebrate the New Year! As we joined the other passengers assembled on the red-carpeted platform, a traditional toast of South African champagne and orange juice set the mood, while a trio of violinists provided soft, soothing classical music -- a fitting background for such a memorable send off. At the microphone Mr. Vos gave a hearty and humorous "bon voyage," announcing each guest's name in turn as we boarded the train. Many nations were represented that morning - the UK, Norway, Italy, Australia, USA, Switzerland, Spain, Germany, France, South Africa and Canada. These vintage coaches have carried royalty on past tours, and we soon discovered there was a European countess among us, which reflects the company's claim "the most luxurious train in the world. A mild thunderstorm was brewing above Table Mountain, and as rain began to beat on the windows, the train pulled away from Cape Town station. Have no fear, I had a feeling that the trip would be even more enjoyable, looking out from our cozy cocoon on wheels. My intuition proved to be quite true. continued
Discovering Casablanca
by Jerry W. Bird
As originator of a travel series called Railways of the World, going to Casablanca, Morocco's largest city, by rail was a wonderful way to start off the week and celebrate the new year. We enjoyed the journey so completely that the route from Marrakech (3 hours) seemed far too short. However, as we soon learned from the staff on board, visitors can travel between many of Morocco's principal cities by rail. That includes the Northern port of Tangier, a few miles from Spain with its famous Talgo Train service. We were on our way to visit Benachir Akli of Olive Branch tours who worked with ATA on the last two great events hosted by Morocco National tourism Board. As our friend will agree, Rail Travel is still one of the most practical, inexpensive and relaxing of all modes on transportation, and this route to Casablanca was a shining example of price plus convenience. We traveled in a modern, first class coach, enjoying the privacy of a 6-seat compartment all to ourselves, with ample overhead storage for luggage and carry-ons. The one way tickets purchased at the counter without reservations were less than $15 in U.S. currency.
A simple lunch was served on board, and the price was nominal. I settled back in the sofa-like seating determined to savor every moment and take in the scenery like a passing parade, which is exactly what it was. The views were varied and unforgettable, from scenes of shepherds and flocks that seemed right out of the bible's Old Testament, to multi-layered desert vistas, lush grassy plains in the foothills country and modern city scapes as we approached our destination. Cattle, sheep and camels grazing side by side was quite different than your typical pastoral scene. Both the Marrakech and Casablanca terminals are clean, well maintained and convenient to taxis and other transportation from the heart of the city (this keeps the stress level low and the pleasure scale high). We were in and out of the railway terminal and on our way by Petite Taxi to the Residence Casablanca Apart'Hotel within a very few minutes of arrival. Quite a change from the average plane trip, where it would takes us that long just to reach the arrivals area to retrieve our luggage. Above photo: Friendly staff to greet you at the Casablanca Appart'Hotel. continued

Jerry W. Bird is President of ATA Canada Chapter, Editor and Publisher of Africa Travel Magazine, and Webmaster for the ATA site www.africa-ata.org. He is also Publisher of Air Highways Magazine, the Journal of Open Skies, featuring aviation, tourism, transportation and business worldwide. His career began with the Edmonton Journal Daily Newspaper, and expanded into the full spectrum of media - radio, television, magazines and Internet. He has won international awards for creativity in audio visual and print production.