Tanzania Tourist Board Awards 2005

TTB MEDIA AWARD: Robert Eilets, Photojournalist, USA
TTB TOUR OPERATOR AWARD: Chris Gakuo,, Born Free Safaris Inc., USA
TTB TOUR OPERATOR AWARD: Adam Jillo. Safari VentureS Inc.
TTB TOUR OPERATOR AWARD: Karen Zulauf, Deeper Africa Inc.
TTB TOUR OPERATOR HUMANITARIAN AWARD: Robert Chama Thomson Safaris Inc. USA
TTB established the Tanzania Tourism Awards in 2001, both to express its support and appreciation to the travel professionals and media who have worked hard promoting and selling Tanzania; and as an incentive to increase the numbers even more in the coming years. According to Mwenguo, one of TTB's specific objectives when creating the awards was to promote the Southern Circuit, until recently, a "best kept secret" We have witnessed in the last couple of years a tremendous growth in the number of major tour operators from North America expanding their itineraries to include the Southern Circuit and are pleased to announce that the 'secret' is out!" The inauguration of the new "Tour Operator Humanitarian Award" is a direct result of the Second IIPT Africa Conference on Peace Through Tourism held in Dar es Salaam, Tanzania December 7-12, 2003, hosted by Tanzania's Ministry for Natural Resources and Tourism. The IIPT Conference, held in partnership with ATA and the Corporate Council on Africa (CCA), focused on "Community Tourism: Gateway to Poverty Alleviation." According to Mwenguo, "TTB established this new Award category to encourage tour operators to make a direct contribution to the betterment of the local communities, thereby also making them "stakeholders" in the tourism industry. We are pleased to be able to inaugurate the "Tour Operator Humanitarian Award" by recognizing Africa Adventure Consultants, whose outstanding contributions to Tanzania are a shining example of the sited purpose of the Award." Mr. Amant Macha, TTB Marketing Manager, noted that The Hotel and Lodge categories were added to emphasize the necessity of having the full support and cooperation of the Hospitality and Lodging sectors in Tanzania in order for TTB to carry out a successful marketing campaign in the US. "We wanted to find a way to recognize those hotels and lodges who have provided this ongoing support in such an outstanding manner," said Macha.
Tanzania Tourist Board"Awards 2004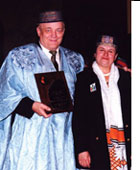 Douala, Cameroon. The Tanzania Tourist Board fourth Annual Tanzania Tourism Awards were presented by Hon. Zakia Hamdani Meghji, MP, Tanzania's Minister for Natural Resources and Tourism. The Tanzania-hosted Gala Awards Dinner followed the official opening of the Africa Travel Association's (ATA) 29th Annual Congress, Monday, May 3, 2004, in Douala, Cameroon. The 2004 Awards featured three new categories of recognition, Hotels, Lodges and a special Tour Operator Humanitarian Award.
Honorees this year were: in the Media Category, Jerry Bird and Muguette Goufrani, Publishers (left), ATA's Africa Travel Magazine and website; Tour operator, Coastal Travel Ltd, Dar es Salaam; Tour Operator Humanitarian Award, Africa Adventure Consultants, Denver, Colorado; Hotels, Holiday Inn Dar es Salaam; and Lodges, Sopa Lodges. The Award dinner venue was the Sawa Hotel, ATA Congress Headquarters. Photo above: Africa Travel Magazine and Web Site publishers also won the Founders Award, Cape Town, 2001. See flashback
Present at the Awards Ceremony were Hon. Pierre Hele, Minister of Tourism for Cameroon and ATA Congress host Minister; Ministers of Tourism and heads of delegations from 15 African countries; and the 300 ATA delegates, mostly American travel professionals. In addition to the Hon. Meghji, the Tanzania delegation included representatives from the Ministry for Natural Resources & Tourism, the Tanzania Tourist Board, Zanzibar Commission for Tourism, Ngorongoro Conservation Area Authority and Tanzania National Parks.

Awards
Tanzania Tourism 2004 Honorees:
TANZANIA TOURIST BOARD MEDIA AWARD 2004: AFRICA TRAVEL MAGAZINE & WEB SITE, JERRY BIRD AND MUGUETTE GOUFRANI
The first Award was for the media or individual travel journalists providing outstanding coverage of Tanzania's Tourism products. The 2004 Media Award was presented to ATA's Africa Travel Magazine and Web site publishers Jerry Bird and Muguette Goufrani, Bird and Goufrani continue to do an outstanding job of providing constant editorial coverage of the Tanzania Tourism Product and marketing activities in print and on the web. In August of 2003, when Tanzania President, H.E. Benjamin William Mkapa, took over as SADC (Southern African Development Community) Chair and hosted 14 Heads of State in Dar es Salaam, the ATA magazine publishers quickly produced a special SADC Summit Edition. This special Africa Travel Magazine issue, showcased not only Tanzania, but the global accomplishments of the Africa Travel Association and all of its member countries, as well as promoted ATA events to the more than 1000 SADC delegates.
TANZANIA TOURIST BOARD TOUR OPERATOR HUMANITARIAN AWARD 2004: AFRICA ADVENTURE CONSULTANTS
This new award category recognizes the tour operator who has done the most in its efforts to support community-based tourism and humanitarian projects in Tanzania. The first Tour Operator Humanitarian Award went to Africa Adventure Consultants for their remarkable contributions to Tanzania. In the past year, the company has greatly increased its support to both community &endash; based tourism and humanitarian causes in the following ways:
$10 from each client's safari cost is contributed to one of three not-for-profits, all of which work exclusively in Tanzania. The not-for-profits are Mwangaza; The Richard & Agatha Scholarship Foundation; and The Serengeti Cheetah Research Fund. 100% of all funds contributed go directly to the organizations.
Africa Adventure Consultants established and has since funded the Richard & Agatha Scholarship Foundation, a US-registered not-for-profit organization that provides school fees for Tanzania children.
Since it's inception, Africa Adventure Consultants has supported Mwangaza, a US and Tanzania registered not-for-profit/NGO that helps disabled children in northern Tanzania. In addition to in-kind donations, they send clients to the project sites, contributing $50 per person to the fund.
Africa Adventure Consultants contributes regularly to the Serengeti Cheetah Research Fund, the longest ongoing study of wild cheetahs in the world.
Fund community-based tourism through partner companies who hold leases, pay fees, and have community-based tourism agreements with in districts such as Arusha, Siminjiro and Ngorongoro.
TANZANIA TOURIST BOARD TOUR OPERATOR AWARD 2004:
COASTAL TRAVEL Ltd.
The fourth award recognizes the tour operator or group organizer providing the most support of the promotional efforts of the Tanzania Tourist Board in the US market. The 2004 Tour Operator Award was presented to Coastal Travel Ltd., Dar es Salaam. Nicola Colangelo, Director, and his excellent staff, have provided tremendous support to TTB marketing efforts to promote the Southern circuit and Mafia Island. In 2001, Coastal hosted a press group from the US, which resulted in high profile coverage of the Selous in such diverse media outlets as the Boston Globe and National Public Radio. Coastal has also hosted other journalists since which have resulted in coverage of Mafia Island, Ruaha, Mikumi and Zanzibar.
TANZANIA TOURIST BOARD HOTEL AWARD 2004:
HOLIDAY INN DAR ES SALAAM
This year TTB introduced a hotel category to recognize the hotel properties that have done the most to support the promotional efforts of Tanzania Tourism in the US market. The first award in this category was presented to Holiday Inn Dar es Salaam. General Manager, Adam Fuller, and his team have provided enthusiastic and ongoing assistance with high profile promotional projects by providing complimentary accommodation for travel writers and journalists, as well as other promotional teams. Recent examples, Holiday Inn Dar es Salaam hosted American travel writers covering the IIPT Conference in December, 2003; the American journalist who did a live report for BBC as he climbed Mt. Kilimanjaro, as well as stories about his climb for the Blue Magazine and NPR (National Public radio ) web sites; and the Star Chef, Marcus Samuelsson (Aquavit New York) and his team as they research a book on "Soul of Africa Cuisine."
TANZANIA TOURIST BOARD LODGE AWARD 2004: SOPA LODGES
The Lodge Award was introduced this year to give recognition to the Lodge in Tanzania that has done the most to support the efforts of Tanzania tourism in the US Market. The first Honoree in this category was the Sopa Lodges. In 1998, when Tanzania hosted its first-ever ATA Congress, in Arusha, Sopa Lodges was a major sponsor and hosted the more than 350 delegates on their visit to Tarangire National Park. It was this historic ATA Congress that served to relaunch Tanzania into the American Market. The number of Americans visiting Tanzania, following the ATA Congress, has increased to such a degree that it has become the second largest tourism generating country (after Great Britain) and the number one spot in visitors to the Tanzania National Parks. Since the Congress, Sopa lodges has continued this commitment to the American market by annually hosting travel industry press and tour operators in an effort to familiarize them with the Tanzania Tourist product.
For more information on Tanzania, visit the new TTB web site at: http://www.tanzaniatouristboard.com/
or contact the Bradford group, Tel (212) 447-0027;
email: mailto:bradfordmktg@aol.com