Googled us Lately?
by Jerry W. Bird

President Kikwete of Tanzania gave the world a timely message when he said,"The Western media needs to focus more on success stories in Africa. We are doing so many good things out here which do not get enough publicity."
The following testimonials prove that we have heeded President Kikwete's request by providing positive publicity on Africa for 15 years. The results are showing up in many measurable ways, as we build a library of books and magazines to showcase the Best of Africa. One of the latest is our "Venues World Edition," where we show how Africa shines at events in the USA, Africa, Europe and beyond. Click here for a list of the many African cities and countries that have hosted ATA events since 1975. Almost every event in Africa we have attended for years has staged a fashion show, often presented by Chief Margaret Fabiyi. As a result, our editions since 1996 have featured a section on this fascinating topic. On Google we often rank #1 for Africa Fashions and Designers -
Trends we love:
Looking at the list on the right sidebar of this page, I give thanks to the company that generates these exciting statistics - Web trends Inc. of Portland, Oregon. They are down the road from our Vancouver office, where Africa Travel Magazine was launched in 1995. Our mandate was to provide a positive atmosphere to stimulate travel between Africa and North America. Thanks to statistics provided by Web trends, Google and Yahoo, who measure our growing global reach and influence, the magazine's impact is much broader.

The world is Africa's oyster!
As of now, every issue we produce will be part of The Africa Travel and Nature Library - marketing and learning resources that will open doors and win friends. Our stories are mainly in English at the moment, with help from African Tourism Ministries, AT members and partners, more French and other languages will soon be on the agenda. Two Editor's Blobs expand on this concept - one from Egypt, the other from Morocco.


---
Revolutionary New Tablet Technology enhances reading , extends circulation of Digital Books and Magazines, including most titles in our Africa Travel and Nature Library - Mac iPad . Demo Video . Kindle . Editors Blog.org

---
OUR MAJOR SHOW PARTNERSHIPS IN THE USA . OUR TRAVEL INDUSTRY PARTNERSHIPS



Our site ranks #1 or in the Top 3 in many searches
Google Score for Marketing Africa Tourism to USA
Google Score for Marketing Africa Tourism to Canada
Google Score on Marketing Africa Tourism to Europe
Google Score for Marketing Africa Tourism to Asia

How do the countries rank?
As expected the USA, UK and Canada lead the pack in hits, pages read and frequent visits to our site. Yet look what's happening this month as two African counties, South Africa and Morocco are in the Top Seven. China with its vast outbound tourism potential has become number 4. Another giant, India is coming on strong and the Emirates are paying keen attention. At every Africa Travel Association Annual Congress and Symposium since 1995, a key point that speakers, including myself, continue to stress, is supporting Inter- African Travel and Tourism. So having Morocco, South Africa, Kenya, Nigeria, Tanzania, Uganda, Ghana, Senegal, Ethiopia and Egypt in our Top 40 is a positive sign. Small wonder the decision to locate an office in Morocco was so timely. Talk about seizing the moment!



Travel Trade Shows and Seminars:
This spring we expanded our personal marketing efforts to include Europe's leading events IT Berlin, plus Salon de Tourism in Paris and the World Travel Market in London. China shows are on our agenda along with the Arabian Travel Market and Moroccan Travel Market in Marrakech. Trade shows and conferences have been a big winner for us. A recent example is our efforts with the City of Houston. Texas and Ethiopia Tourism in a two week "Out of Africa" promotion, Our year round success record is documented in "Venues," an edition devoted to promotion and incentive travel You can download 60 pages on http://www.africa-ata.org/venues.pdf



Googled us lately?
In searches for "Advertising Africa Travel, Trade and Tourism to America" on Google, and Yahoo our website ranked #1 and 2. Keeping such success in the family, Air Highways, our second online magazine website, ranked #3 and 4. These consistently high scores indicate the success of Africa Travel Magazine's Electronic and Print media - building blocks of the Africa Travel and Nature Library. Answering the quote by President Kikwete above - marketing is where Africa Travel Magazine stands out. We're foremost in delivering "positive news" as voice of the Africa Travel Association, which has staged world class events in 33 African cities since 1976.



Faces of Africa:
Who needs Face book? Our Home page and sections are graced by photo stories and galleries by Africa's most capable boosters - our writers, photographers and contributors from inside the industry and out. Since many of today's tuned in, turned on professionals get their news, views and background information via the Internet, our website employs the best facets of North America's top print media - the eye appeal of Conned Nat -the life span of National Geographic - and the variety of Readers Digest. Our visitor's attention is further riveted by a wealth of cultural, wildlife and nature photography, plus scenes of Africans in action at events worldwide. We provide hundreds of positive images - and each gallery page is linked to a specific African country or region.



Our second Travel Magazine Website - Air Highways - launched in 1995 - has been a success thanks to friends like Ed Anderson whose photos are worthy of top awards.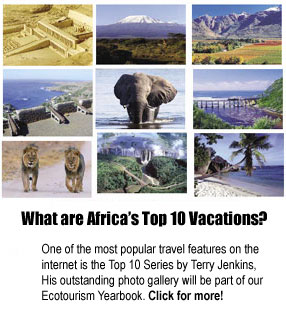 See testimonials at top of this page Read what Terry Jenkins of Africa's Top 10 Vacations says about our website