Outside the Box: Electronic Web Only World Editions of Africa Travel Magazine and Downloads 24/7 on Corporate Press Display Internet Kiosk. Most printed editions are previewed for several months on our websites.

CHINA OUTBOUND TRAVEL AND TOURISM MARKET

18-20 APRIL 2012 - CHINA WORLD TRADE CENTER, BEIJING

COTTM welcomes record number of visitors to only B2B outbound travel show in China!

COTTM is the only business to business show in China dedicated to the China outbound travel and tourism industry. This year COTTM was proud to welcome Mr Xue Ya Ping, the Deputy Director of Marketing and Communications Department of China National Tourism Administration (CNTA) to the Opening Ceremony and to cut the ribbon. COTTM is supported by a wide range of trade associations such as the National Tour Association, the Pacific Asia Travel Association and the European Tour Operators Association, as well as numerous Chinese and international media partners.

Over 200 Exhibitors from more than 50 countries attended to showcase their countries, products and services to a high number of Chinese hosted buyers, who were keen to secure the best destinations and services for the Chinese outbound market. Exhibitors included Cambodia, Czech Republic, Dubai, Egypt, Ethiopia, Hungary, India, Macau, Mexico, Mozambique, Peru, Philippines, Poland, Slovakia, Thailand, Tunisia to name a few. The Cambodia Ministry of Tourism said COTTM'09 offers the opportunity to meet new clients & a good chance to expose Cambodia to the Chinese market, and the Mozambique Tourism board commented that COTTM offered Very good service, Good space and was a good business opportunity.

A new edition to this years show was a COTTM top tour operators debate, COTTM has joined partnerships with Beijing Jiedajiaqi International Travel Service, Hua Yuan International Travel, Air China Travel Service, and Beijing UTS International Travel Service Co, who participated in the debate. The title of the debate was How to face Economic Challenges, and gave helpful advice to help different countries and companies to overcome financial hardship; the debate was attended by over 150 people. Mr Zhang Xiangming, General Manager of Beijing Jiedajiaqi International Travel Service commented that COTTM created an excellent platform for Chinese tour operators and travel agencies to meet outbound travel and tourism products suppliers from all over the world. Also we are pleased to participate in this valuable debate to show our views to the market.

Visitors were clearly impressed and appreciated the invaluable effort that COTTM makes to facilitate the burgeoning Chinese outbound travel & tourism market.
Mr Tony Wu, General Manager of Outbound travel Centre, Jiang Su China Travel Service said COTTM09 provided us a very valuable platform to communicate with outbound travel and tourism products suppliers. Within 3 days I have got so many products, such as Tours to Kentucky Farms, Guam Island, DPR Korean, and Slovenia, which I am able to promote to the Chinese consumers!

The prestigious Chinese Tourists Welcoming Awards also took place as part of the 3 day show, hosted by Wolfgang Georg Arlt, Director of the German based COTRI. The awards recognize the companies and countries that go the extra mile to accommodate Chinese people and their specific requirements when traveling abroad.

With a reported 18.6% increase in outbound travel in 2008, the number of Chinese people travelling abroad is growing at an unprecedented rate. Wolfgang Georg Alt comments, With more than 50 million Chinese expected to travel across the border in 2009, this is a market which is no longer ignored. China is already the biggest tourist source market in Asia and Chinese tourists are now the fifth biggest spenders in international tourism. COTTM provides a valuable platform to find local agents and establish new business contacts and is not to be missed!

For more information about the 2009 show, and to enquire about the 2010 edition, please visit www.cottm.com or email jcarter@tarsus.co.uk. Please contact us if you require any photos.
7

DOING BUSINESS IN CHINA
Improved international relations, government reforms, an expanding economy and increased foreign investment make doing business in China a potentially lucrative affair.Be prepared: Doing business in China means that business people will come into increasingly frequent contact with Chinese business people and officials. It is imperative that those doing business in China learn about areas such business culture, business etiquette, meeting protocol and negotiation techniques in order to maximise the potential of their business trip. More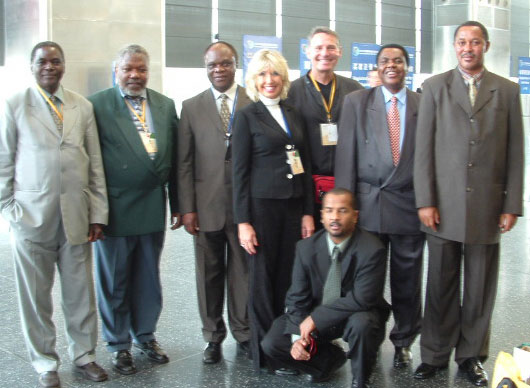 A

Above: Team Tanzania in Nanjing, China. A combined ATA - Africa tourism marketing team at the World Tourism Marketing Summit, Nanjing, China in November 2004 included ministry officials from Tanzania and Zambia
AIR TRAVEL: Please plan your travel arrangements as soon as possible as October in Beijing is "high season". Beijing can be accessed internationally directly, through Shanghai or Hong Kong.


Cathay Pacific Airlines: JFK New York to Hong Kong via Vancouver
From SFO San Francisco - to Hong Kong
More airlline information to come on this page.

Global Media Contact
Karen Hoffman
Global Director
Marketing and Public Relations
2nd World Tourism Marketing Summit
C/O The Bradford Group
347 Fifth Ave. Suite 610
New York, NY10016 USA
Tel: + 1-212-447-0027
Fax: + 1-212-725-8253
Email: karen@wtuglobal.org
Chinese Media Contact
Ms. Vivian Sun
Chief Operating Officer/Managing Director 2nd World Tourism Marketing Summit
c/o Starter Mass Communication
1006 East Area, Zhubang 2000 Building
Balizhuang Xili 100, Chaoyang District
Beijing 100025, People's Republic of China
Tel: +86 10 8586 2610/2620/2630
Fax: +86 10 8586 2640